WELCOME TO KAYE'S PAGE


BEST VIEWED AT FULL SCREEN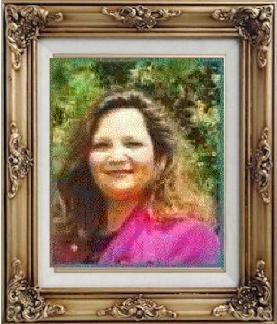 This is me, Kaye, and I poured my heart out on this page for my family & to whomever visits it.


SPECIAL ACKNOWLEDGEMENT

I would like to take this opportunity
to acknowledge & thank
TISMYANGEL (Jackie),
a dear friend from Glennas Garden!
She donated so much of her
time & effort
to help me complete this page!
To know her is to love her...
for
her inspiration comes from
the love she has for
TYLER,
her beloved son who lost
a battle with cancer!
To me,
they are both
ANGELS!



DEDICATION

This page is dedicated to:
My husband, 4 children, 2 grandsons, all of my family and friends,
&
to the wonderful friends that
I have made in
Glenna's Garden.
I will cherish all of the love
I've known
forever!

Welcome to my pages that contain some of the poems I have written. I hope that one will touch your heart & give you some kind of comfort. I ask you to take time to read them, to sign my guestbook so I can know you came by, & to visit the sites that are linked from my pages. Thanks & come back anytime.



I can't create this page without giving tribute to my parents. My dad lost a battle with lung cancer,& now, my mom is fighting a battle with colon cancer! I thank God for them both!



A PROFILE OF COURAGE

They say that he can't win the fight,
for others have tried and failed..
That cancer is sure to claim his life,
and he'll just follow an empty trail!

But, if death is going to get him,
It won't win without a fight!
He gathers strength from those he loves,
to struggle with all of his might!

Though he fears not what lies ahead,
once his eyes have closed in death.
It's for the ones he shall leave behind
that he fights to his final breath!

No, he won't lay down his armor
or be caught without his shield...
God creates the miracles for him
to win in this Cancer Battlefield!

Written by Kaye Des'Ormeaux
Copyright @ 1991
Dedicated to my Dad
who fought a battle with cancer
and went be with the Lord on
NOVEMBER 29, 1991



"My Mom is a Survivor"

My Mom is a survivor,
or so I've heard it said.
But I can hear her crying at night
when all others are in bed.

I watch her lay awake at night
and go to hold her hand.
She doesn't know I'm with her
to help her understand.

But like the sands on the beach
that never wash away...
I watch over my surviving mom,
who thinks of me each day.

She wears a smile for others...
a smile of disguise!
But through Heaven's door I see
tears flowing from her eyes.

My mom tries to cope with death
to keep my memory alive.
But anyone who knows her knows
it is her way to survive.

As I watch over my surviving mom
through Heaven's open door...
I try to tell her that angels
protect me forevermore.

I know that doesn't help her...
or ease the burden she bears.
So if you get a chance, go visit her...
and show her that you care.

For no matter what she says...
no matter what she feels.
My surviving mom has a broken heart
that time won't ever heal.

By Kaye Des'Ormeaux
October 15, 1998

Dedicated to the mothers who have lost a child & have somehow survived.
Special dedication to Clarissa


My Dad is a Survivor

My dad is a survivor too...
which is no surprise to me.
He's always been like a lighthouse
that helps you cross a stormy sea.

But, I walk with my dad each day
to lift him when he's down.
I wipe the tears he hides from others.
He cries when noone's around.

I watch him sit up late at night
with my picture in his hand.
He cries as he tries to grieve alone,
and wishes he could understand.

My dad is like a tower of strength.
He's the greatest of them all~!
But there are times when he needs to cry...
Please be there when he falls.

Hold his hand or pat his shoulder...
And tell him it's okay.
Be his strength when he's sad
Help him mourn in his own way.

Now, as I watch over my precious dad
from the Heavens up above...
I'm so proud that he's a survivor...
And, I can still feel his love~!

~Kaye Des'Ormeaux
October 16, 1998
Dedicated to the dads who have lost a child.

Please visit the My Mom is a Survivor & My Dad is a Survivor page at


My Mom Is A Survivor
My Dad Is A Survivor


THE JEWELS IN GLENNAS GARDEN

There's a garden you can visit
when you need to unwind.
For the scenery in this garden...
No where else will you find!
There's no flowers in this Garden...
But, you'll see "jewels" instead...
"Jewels" that'll bring your heart anywhere it wants to be led!
For the "jewels" in this Garden
will welcome you with a smile!
If you're down when you enter,
you'll be laughing after a while!
For this Garden is adorned
with "jewels" at every bend,
who's always willing to help you
when you simply need a friend!
There's one thing in common
with the "jewels" you'll meet there...
Cancer has tarnished each
one of them...
So they know how to show
they care....
They'll all laugh & cry with you,
cause they truly understand...
The trials that you're going through,
and exactly what cancer demands!
Yes, the "jewels" in Glennas Garden
are surely one of a kind!
And only God knows
how much I'll miss them
when I must leave them behind!

Written by Kaye Des'Ormeaux
On May 25, 1998
DEDICATED TO MY FRIENDS
IN
GLENNAS GARDEN
Copyright 1998 Kaye Des'Ormeaux


FOR YOU, MY CHILD, I DIED

One night while I was traveling,
the stars were shining bright.
I gazed up into the darkness
and then I saw a bright Light!

The Light came down toward me,
and stood right by my side.
I knew it was my Savior when,
He said, "For you, my child, I died!

For you, my child, I took that cross
and walked the hill called Calvary!
I let the soldiers tear my flesh
as they nailed me to that tree!

I let them laugh and scorn at me
with a crown of thorns upon my head.
I could've called ten thousand angels,
but, I chose to die for you instead!"

By then, my eyes were filled with tears
as I listened to my Savior speak.
He gently held me by the hands
and wiped the tears from my cheek.

"I've come tonight to comfort you,
and I am ALWAYS at your side.
So when you're down and lonely,
remember, for you, my child, I died!"

Written by Kaye Des'Ormeaux
Copyright @ 1997

Dedicated to the love I have for my Lord,
and to myself as a reminder that
Jesus loves me & will never leave me!




(unnamed)

Sometimes we can't help
but ask the reason "why?"..
when a person we love
will just suddenly die!
Our heart is emptied
and replaced with pain.
There's such a heartache
that no words can explain!

For, one day he's here...
but the next day, he's gone!
You're surrounded by love,
Yet you feel lost and alone!
Everyone has felt the sting of death...
at some point in their life!
They know it cuts into your heart...
just like a two-edged knife!

But, there's one thing
that we must all understand...
without "death", he can't walk
with God hand in hand!
And, if he could come back today...
to this cruel worldly place!
He'd tell you how great Heaven is,
as he'd wipe the tears from your face!

He'd tell you that Heaven
is such a beauty to behold;
that the paths are lined with jewels...
that he walks on streets made of gold!
He'd tell you not to cry for him...
To stop the flow of your tears!
For he now walks with Angels,
And...he'll always be near!

Written by: Kaye Des'Ormeaux
Copyright 1998
(June 2, 1998)
Dedicated to anyone
who has lost a loved one!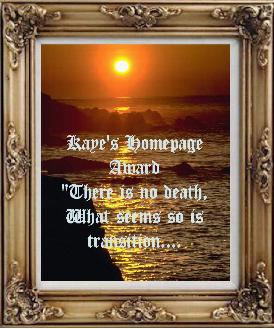 IF you would like to be considered for this award, please send me a link to your page. Thanks.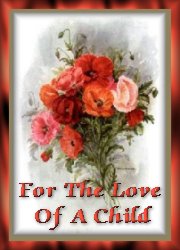 If you would like to be considered for this award, please send me a link to your page. This award is in honor of the moms & dads who have lost a precious child.


PLEASE VISIT KAYE'S GUESTBOOK

LET ME KNOW HOW YOU LIKED MY PAGE

GO TO KAYE'S COLLECTION OF THOUGHTS PAGE:

GO TO KAYE'S AWARDS PAGE



JUST A FEW OF THE MANY PAGES THAT TOUCHED MY HEART!
Tismyangel's Home Page
My Reason
OUR BEAUTIFUL GARDEN
PJ's Hompage
Karen McCombs's Home Page
My Mom is a Survivor Thank You
Dedicated to Kaye
Cole's Legacy - The Gift of Life and Sight
Shane's Page
See you in heaven sweetheart
Angels Fly Away
Barbara's Page
Josh's Playland
TILL WE MEET AGAIN
When God Created Moms
Princess Emily's Homepage
Welcome to Nicholas's World



**PLEASE NOTE**

All of the poems and graphics on my pages are copyrighted by me or others. Please do not use the poems without written permission. Disclaimer and Copyright © Kaye Des'Ormeaux 1990-2001 - All Rights Reserved.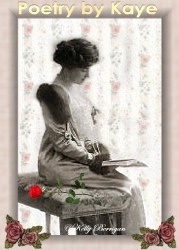 You may use this graphics to link back to my site if I have written a poem for you or your loved one.
https://members.tripod.com/~KDezamo1/index.html

~ My sister Linda M. Dagleish who was an Organ and Tissue Donor.
<!Begin The Gift Of Life Ring>

SiteRing by Bravenet.com

<!End The Gift Of Life Ring>


MY OLD COUNTER STOPPED WORKING,
PLEASE ADD 8,971 TO MY NEW COUNTER BELOW

Midi Song Playing:
I Will Always Love You